(Note: This story is part 2 of 3.  See part 1 for what got us here, and don't forget to read part 3 after this! -Ed.)
Day 1
This has surpassed my expectations.  I approached this with trepidation, afraid of the heights, the physical challenge.  But it is not so bad as I thought.  So far, very few sheer precipices.  Actually, a fair amount of relatively flat terrain.  The scenery is superlative, easily the most amazing I've seen, anywhere.  Broad green mountain with fissures like walnuts crest out into the clouds, mist rising from them like volcanoes.  The mountain before me here is an example.  I'm writing by the last evening light, overlooking a neighboring campsite.  It's cold, I'm in my white Peruvian hat.  It's difficult to write.
A moment ago one of the Polish girls in our group could be heard singing "Memories" from her tent, beautifully.  Now, just the sounds of scattered conversations, post tea, pre-dinner.  Darkness is falling, and it's getting harder to see well enough to write.
The first day's trek was pretty easy.  I'm feeling no effects of the altitude, having had a few days in Cusco to prepare.  A lot of the people on the trip are sucking wind.  A pair of Irish girls, fresh off the plane earlier that day, looked to be really struggling.  Also in our tour: two Polish families from Chicago, with young pre-teen daughters, clearly very excited to be a part of it all.  A group of friends, men and women, of indistinct relation, a single woman from Sweden, a pair of sisters.  Everyone seems well-prepared, and well-traveled.  We play the role of the couple from New York.
We did a group shot at the trailhead, and then waited for a man to get his donkeys to cross a creek, before we could gain entry.  You enter an international sanctuary when you enter the trail, and there is actually passport control at the entrance.  Naturally, we all get our passports stamped.
Also, I have to say that these Asolo boots are performing incredibly well.
Things I don't want to forget: Jose's lecture at the second waypoint, describing the history of the Inca.  The "Incan Alexander the Great" – Pachacutec.
A few other notes I made but can't make out:
* 9 Incas
* 1500's, height of the Empire
* Piglets
* My walking stick, which I named "Pepe"
* Climbing the stairs
* The Sound of Music
Day 1 concludes with me racing one of the men from the group to the campsite.  It is a race up the huge stone slabs that make up the stairs that undergird so much of the trail.  Rarely is the trail flat, indeed the "Inca Staircase" might be more appropriate so far.  So our race is a series of 2- and 3-foot leaps upward from stair to stair.  We tie.
Juan, our guide, later tells us the story of a guy he raced on a brief portion of the trail.
"I won, of course, said Juan.  But I shouldn't have done it.  Still, he looked in such good shape, I thought he could handle it.  A real athletic guy."
"What happened," we asked.
"After the race, he started to turn purple," said Juan.  We had to get him taken off of the mountain.  He almost died." He pointed to his head.   "Cerebral edema."  Brain swelling.
So, important safety tip.  No more races.
The campsite is a dramatic mountain valley, wide bright grass fields settled between twin mountain peaks surrounding us.  I could not make a more serene setting if we were in a movie.  The scene is completed by a creek that pools at the edge of a foggy cliff.
As if that weren't enough, two wild Llamas, obviously on the payroll of the Peruvian Board of Tourism graze pacifically in the distant field, dramatic peaks rising behind them.
We all sleep well.
Day 2.
Its was very foggy outside, and it rained– hard– throughout the night and morning.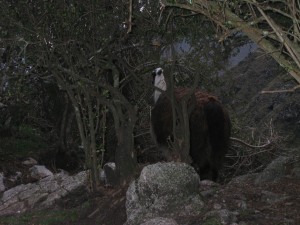 I awoke to find the two llamas, maybe Alpacas, quietly eating from a bush just steps away from where we had pitched our tent.  They were dirty, with mottled brown and white fur and sneering expressions on their lips.  Crawling quietly past, I wandered the campsite, ate crackers, brushed my teeth, and waited for others to have breakfast.  The mornings are as cold as the evenings, almost.
I should mention.  Last night night we had a bit of a minor crisis at the site.
First, a bit of background: historically, there have been a number of different ways to tackle the trail, by oneself or with a group and guide.  At the time of our trip, the law was such that solo trips were no longer permitted.  This was a government response that followed a series of tourist robberies and issues with overcrowding in campsites.
To promote safety and effective traffic and trail management, all groups now would require  guides, and it was encouraged that visitors hire bearers/porters– called porteros— to carry their equipment.  Our group was followed by several porteros, eight to 11 skinny men from the local Indian groups.  None spoke English, and just a few even spoke Spanish.  None were formally schooled in any way and there was a clear, unsubtle hierarchical difference between the porteros and the guides.  So while the macho in me wanted to carry all of my own stuff, the discretionary part of valor also realized that I could carry more equipment this way, and could frankly afford to contribute to the local economy a little more freely.  Furthermore, as part of a group, there were group supplies that needed to be carried, dining tents, cooking stoves, etc.
So the porteros were a regular addition to our group.  It was a common site to see them run– I said run, by the way– past you at any point of the trail, skittering ahead, hopping up the enormous stone stairs in flip-flops, all the while with a box of supplies wrap-tied in blue tarpaulin the size of a 50's black-and-white TV set and borne on the back.  I was reminded of the Tarahumara Indians of Mexico, who regularly used to wander into extreme endurance events, casually run a 50-miler in jelly shoes and laugh on home with their friends.  I believe this now, I have seen it.
So, as everyone's things were unpacked for the evening, it became clear that everyone had received their sleeping bags but J and I.  The guides and porteros talked frantically among themselves.  What became clear, according to one of the porteros, was that their companion, presumably the one carrying our sleeping bags, had suffered an epileptic seizure somewhere below.  He hadn't even known he'd had epilepsy.  The two porteros with him, quite superstitious, thought he was possessed and had to carry him all the way back to the trailhead.
Realizing this, Jose dispatched a lone runner to go fetch the equipment.  We watched as they strapped a headlamp on him, patted him on the ass and sent him, flip-flops flapping in all directions, into the dark.  We watched the little beam bob and weave along the side of the mountain until finally taken into the black.  Remembering that day's climb, we all realized this man was careening past cliffs and drops that were pretty hairy by the full light of day.  Despite Jose's practiced group management, there was no one on that mountainside that didn't appreciate that the situation was serious.
So we waited.
As I paced the campsite, I noticed an interesting thing that happened that night: stars.   Stars like nothing I'd ever seen, a new night sky unpolluted by any nearby city lights.  Primordial darkness.
One of the fathers, a Pole by the name of Woycek, fancied himself something of a scientist, and had a high-powered laser pointer ("illegal in the US, I had to get it on the internet"), a thick bright green beam that punched a hole into space, easily pointing out stars, landing on them really, one by one.
Woycek checked his watch a few times, he had something planned for us.  The porteros trickled in, fascinated by the wagging laser, here for the light show.  "Almost there, says Woycek."  And then, from behind a mountain crest, passing us at speed, a bright, multi-lit object, spinning in place, framed by the two massive black peaks.
"And that," pointed Woycek, with his incandescent beam, "is the international space station."
Up until now, I'd been translating Woycek's remarks for the benefit of our porteros, and I find myself speechless.  Everyone is looking at the sky, watching the space station fly by, and it occurs to me that while I can translate– literally– the words for space station, it isn't clear that they have the framework to understand what a space station is.  Either that, or they have the world's greatest poker faces.  They look as if I could tell them anything, and they would nod agreeably.  In the end, I settle for "space boat", which does the job, but misses a layer of subtlety, somehow.  They get it, and are happy for the chance to stand and watch the thing fly by in the pure clarity of an unpolluted, unobstructed sky, with a backdrop of what feels like every star in God's creation.  All of us stand in silence, and in seconds it is over.  I feel the etching of a moment in my personal history.  I will never forget this as long as I live.
I also enjoy a laugh to myself picturing the astronauts' befuddlement seeing a bright green dot on the interior walls of the spacecraft.  Any cats on the ISS are going batshit right now.
Not long after, we heard some commotion back by the tent.  As we approached, we could see, just off in the middle-distance,  a lone light bobbing in our direction along the mountainside.  Our runner had done four hours worth of trek in what must have been 50 minutes.
He entered the campsite looking disoriented and a little bedazzled, and was showered with applause.
***
So breakfast was porridge, pancakes (with caramel) and yogurt, granola and fruit salad. Then, we hit the trail.
This was the dreaded 'Dead Woman's Pass.' A lot of uphill, large slab steps the whole way.  It was a long ascent, and this was when we first started to see our first fellow travelers from other groups, Germans, Australians, an American couple from Seattle (who took all the pictures of us at the summit).
At the pass, everyone rested.  Birds alighted here, eagles and hawks walked around on two legs.  I fed a small hawk from my snack.
The rear of the pass, of course, was a descent.  We climbed down into a mystical cloud staircase.  The rain began to pick up here, and it was cool, so we all donned raingear and later full ponchos.  The group took this part very, very slowly, as the rocks became increasingly slick. The changes in pace further separated our group, until we were scattered all along the mountain.  When we finally arrived at camp at the bottom, we broke for lunch– alpaca (not those)– and tea.  Everyone was cold and looked a little zonked.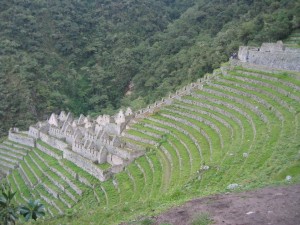 We stopped at an archaeological site along the way where Juan, our guide, explained the basic precepts of the Incan religion.  After lunch, it was back to the trail, this time up, up, up  again.
Read the next part in the story: go to Part 3.